Zug (Gattung), Russia
Zug (Gattung), a German Catholic colony, was established on the "Wiesenseite" or "meadow side" of the Volga River on the 10th of August 1767 by Baron Caneau de Beauregard.
Photograph from the collection of the Kansas State Historical Society, Copy and Reuse Restrictions Apply.
​
Scouts Peter Stoecklein, Jacob Ritter, Nicolaus Schamme, Peter Leiker and Anton Wasinger
​
This photograph was published in the Hays Daily News, November 11, 1929, with the following caption: Here is a group picture of the five pioneers who came to Ellis county, Kansas, from the Volga region of Russia in 1874. These five men were delegates sent to America by the Volga colonies for the purpose of seeking a location to establish new settlements, as many of the Germans of the Volga region were determined to leave Russia and migrate either to North America or South America. This picture was taken of those men shortly before they left Russia bound for America. Reading from left to right are Peter Stoecklein, Jacob Ritter, Nichlas Schamne, Peter Leiker, and Anton Wasinger. They fulfilled their mission successfully, having come as far west as Nebraska. On their return to their home towns they made a favorable report, on the strength of which the first emigrants left Russia in the year of 1875. Four of the five delegates backed up their judgment by coming to the United States themselves, namely: Peter Leiker, Peter Stoecklein, Anton Wasinger, and Nichlas Schamne. The first three named here remained until they died, while Nichlas Schamne returned to Russia. This photograph published for the first time today, was procured through the efforts of Mr. A. D. Wasinger who, knowing of its existence, corresponded with his sister in Russia, who sent it to him. It is a valuable addition to the historical data covering the history of the early settlements of this colony.
Ivan Ihl and his family from Zug (Gattung), Russia.
This family lived in Zug before the World War II.
The photo was taken after World War II at the Ural.
Photo courtesy of Olga Ihl
Stoecklein Andre B1865 Zug Gattung Russia
Leiker Anna b 1861 Solothurn Wittmann Russia
Sauer Anna Margaret b1851 Zug Gattung Russia
Stoecklein Andre B1865 Zug Gattung Russia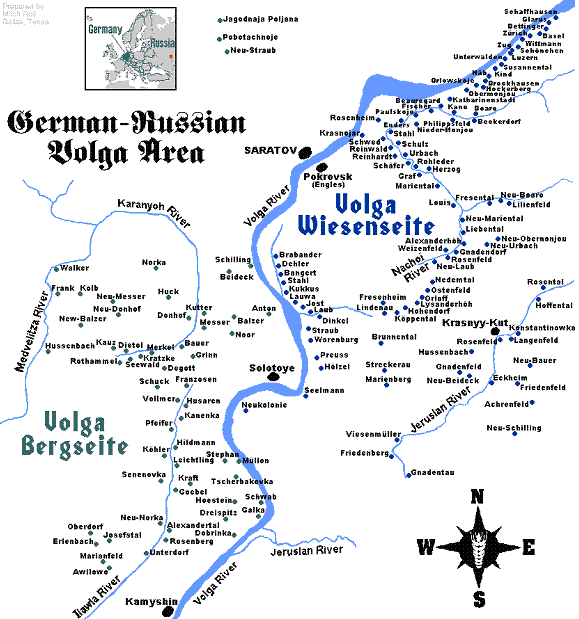 Questions?
Send me a note......
Resarch Material Available for Zug (Gattung), Russia
Archival Records Available & Where
Census Books
​
First Settlers List
​
​
​
Birth Records
​
1880-1882
1893
1909
1910
1912
​

Marriage Records
​
1875
1883 -
(Not Complete)
1886 - 1887
(Not Complete)
1897 - Complete