Herzog (Susly), Russia
Scheck Emma b1857 Herzog, Russia
Scheck John b1859 Herzog, Russia
Margaret Schamne Linenberger wife of Joseph
Scheck Emma b1857 Herzog, Russia
Herzog (Susly), a German Catholic colony, was established on the "wiessen seite" or "meadow side" of the Volga River on the 14th of June 1766. The Russian name for Herzog, "Susly" means "Hops".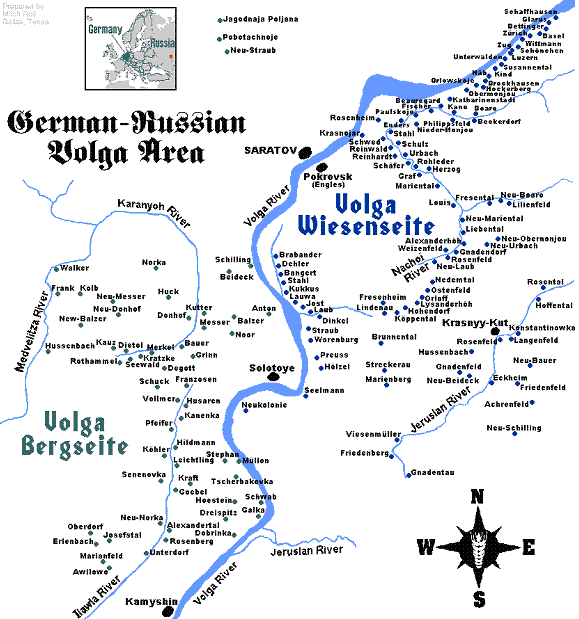 Herzog was a daughter parish of Rohleder 1897. It became it's own parish in 1904.
​
Priests
Gabriel Gwamaradse
1904-1905

Alois Vondrau
1895 - ?

Johannes Schneider
June 1906 - ?

Rohleder Parish Supplied Priest
Georg Baier
1909 - 1910

Gottleib Beratz
1911 - 1921

Alois Oks
1928
From the book
"Die Kirchen und das
Religiose Leben der
Russlanddeutschen"
Katholischer Teil
by Joseph Schnurr
Questions?
Send me a note......
Resarch Material Available
Archival Records Available
Census Books
Kulberg List
First Settlers List
​
​
Birth Records
(Not Complete Years
​
1889
1908
1909
1914
Marriage Records
​
1880
1909
1914
Death Records
​
1909
1914