Liebental (Lubonironvka), Russia
Liebental (Lubonironvka), Russia was established in 1859 as a daughter colony of Mariental (Tonkoshurovka), Russia. After 3-4 generations, there was a need for additional land so daughter villages were established for these young men and women from from Mariental, Graf, Louis, Rohleder, Wittmann and Herzog.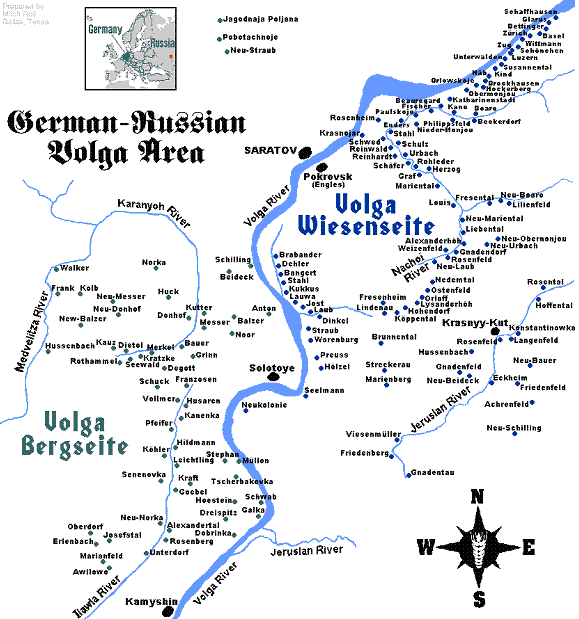 Kreutzer Philip b1875 Liebental
Kreutzer Philip b1875 Liebental
Libental′ (Liebental), also Lûbomirovka-the German colony, Nizhne-Karamanskoj parish, Novouzenskogo County, the Samara province (until October 1918). Located under 46° 51 ' East. longitude and 51° 17 ' n. latitude, on the right bank of the river where the Vetelka b. its confluence in r. Nahoj, 458 miles from the city of Samara, 123 miles from the county town of Novouzenska and in 3 versts from the parish village of Aleksanderge. The distance to the nearest railway station Nahoj-6 versts. Subsidiary of colony. According to Klaus (our colony) founded in 1859 g. name-arbitrary.
​
According to statements of the colonies of foreign settlers, consisting of the Ministry of State property, colony Libental′ belonged to the Niderkaramanskomu district Novouzenskogo County the Samara province, being given to audit 9 1850 on 15 acres per person, according to the plans of economic land allotment comfortable shooting shows 7549.7 acres with superfluous. On 10th 1857 audit on 501 original male soul put on 10.3 acres per person.
​
In the second half of the 19th century from Libental′ there was emigration to America. In 1878 Gg. moved 12 people there.
According to the first census of the Russian Empire in 1897, the number of residents here was 1215 soul of both sexes, including 1203-Germans.
​
According to the Samara Gubernia Statistical Committee for the year 1910 in the village of Libental′ was considered a 223 yard with male 757 622-female, all male and female citizens was like shower 1379-owners, Germans Catholics. The number of allotment land comfortable displaying 7549 acres, uncomfortable-1727 acres. The village was the Roman Catholic Church, 2 schools, 3 wind mills. Annually, 1 March (old style) here has fair, called Libental′skoj, and lasted 4 days. The main traded at the fair was the livestock. On obŝepolicejskomu management of Libental′ village was 1-m.
​
Catholic parish of Libental′ was established in 1861.
​
After the formation of the labour commune (autonomous region) of the Germans of the Volga region and to eliminate ASSR in 1941, village Libental′ is the administrative center of the Libental′skogo Village Council Mariental′skogo Canton. According to the 1926 census yr. village was inhabited solely by the Germans and had 113 households, with a population of 291 soul 276 male-female, only 567 shower of both sexes. In 1926, in Libental′skij village was one s. Libental′.
​
From wolgadeutsche.net in Russian http://wolgadeutsche.net/list/liebental.htm
Population of the Liebental
*of whom 1,203 were German
** of whom 131 households were German
Aselborn - Mariental
Becker - Mariental
Beier - Herzog
Beil - Graf
Benz - Rohleder
Berns - Louis
Braun - Herzog, Louis
Brungardt - Herzog
Dening - Herzog
Deringer - Rohleder
Dillmann -
Donad - Graf
Doppler - Rohleder
Eckhard - Louis
Enslinger - Mariental
Geier - Graf
Gerber - Graf
Getz (Goetz) - Herzog
Glocker - Rohleder
Graf - Herzog
Greifeldinger - Louis
Gross - Mariental
Haas - Mariental
Hein - Louis
Herget - Graf
Hermann - Mariental
Herrhauser - Graf
Hess - Mariental
Hoffman - Rohleder
Jost - Mariental
Kapp - Rohleder
Kenner - Herzog
Kessler - Mariental
Kinderknecht - Mariental
Kmaub - Mariental
Knoll - Herzog
Kreutzer - Rohleder
Kuhn - Herzog
Lechleider - Louis
​
​
Lechleider - Louis
Leidecker - Graf
Linenberger - Herzog
Meier - Louis
Mermis - Herzog
Mertes - Mariental
Mohr/Mahr - Rohleder
Obholz - Louis
Paul - Rohleder
Peter - Louis
Quindt - Louis
Reichert - Mariental
Rischi - Mariental
Roettger - Rohleder
Rohr - Mariental
Rome - Herzog
Schaefer - Louis
Schamber - Louis
Schmidt - Rohleder
Schoenberger - Mariental, Rohleder
Schreiner - Herzog, Rohleder
Schunk - Mariental
Schwarz - Louis
Spies - Louis
Storm - Herzog
There - Louis
Trikole - Louis
Walter - Rohleder
Wasinger - Graf
Weber - Rohleder
Weirich - Louis
Wilger - Louis
Windholz - Herzog
Wittmann - Rohleder
Wolf - Mariental
Asselborn
Bayer
Becker
Beil
Benz
Berns
Biel
Billinger
Bochsich
Bollig
Boni
Braun
Brungardt
Dack
Denning
Desert
Dillman
Dinkel
Dobbler
Donau
Dreiling
Eckhardt
Enslinger
Fritz
Gall (Hall)
Genzerblum
Gerber
Gerstner
Gloker
Graf
Grafeldinger
Gross
Grunewald
Haas
Hein
Heitz
Hepp
Herrhauser
Herrman
Hertz
Hess
Hoffman
Jost
Kapp
Kenner
Kessler
Kinderknecht
Klein
Knaub
Kohl
Kreutzer
Kuhn
Leichleidner
Leidecker
Linenberger
Maier
Matthias
Mays
Mermis
Mertes
Miller
Mohr
Obholz
Paul
Peter(s)
Pink
Quindt
Randa
Reichert
Resch
Rische
Rogger
Rohr
Schaeffer
Schamber
Schmidt
Schoenberger
Schreiner
Schuler
Schunk
Schwartz
Spies, Spiess
Storm
There
Thrikole
Walter
Wasinger
Weber
Weirich
Wilger
Questions?
Send me a note......